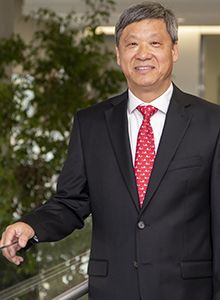 Ed Seto, PhD
Associate Center Director for Basic Sciences at the GW Cancer Center
Professor in the Department of Biochemistry & Molecular Medicine at GW School of Medicine & Health Sciences
Seto received his bachelor's degree from the University of California at Irvine and his PhD from the University of California at San Francisco. After completing an American Cancer Society Postdoctoral Fellowship at Princeton University, Dr. Seto spent four years as an assistant professor at the University of Texas before moving his research group to the Moffitt Cancer Center at the University of South Florida. Dr. Seto held the Ralph R. Kaul Endowed Professorship at the Moffitt Cancer Center and was the chairman of the Molecular Oncology Department for ten years before moving to GWU.
Early in his career, Dr. Seto's laboratory discovered and cloned two histone deacetylase enzymes, HDAC2 and HDAC3, and performed detailed analyses of these proteins. His laboratory was also the first to demonstrate that HDACs repress transcription when recruited to promoters. Over the last twenty years, his laboratory has been actively studying many different aspects of histone deacetylation, including the dissection of all eleven classical human HDACs. This work has led to seminal discoveries on the regulation of histone acetylation/deacetylation and the identification of key nonhistone targets of the HDAC enzymes.
Recently, Dr. Seto extended his work to the Class III Sirtuin HDACs. His laboratory found that SIRT1 deacetylates the Nijmegen breakage syndrome 1 (NBS1) protein and has a positive role in promoting DNA double-strand break repair. Additionally, Dr. Seto's laboratory discovered that the DNA methyltransferase 1 (DNMT1) enzyme is a SIRT1 substrate, and deacetylation of DNMT1 by SIRT1 enhances DNA methyltransferase activity. Finally, his laboratory reported the observation that SIRT1 negatively regulates the activities and functions of two acetyltransferases, hMOF and TIP60.
Dr. Seto has published about 160 scientific articles and currently serves on several editorial and scientific advisory boards. Dr. Seto's has received numerous grants for his research from the National Institutes of Health, the American Cancer Society, and the National Science Foundation.